Volume of logs harvested in 2018
Dynamics of harvesting 2016-2018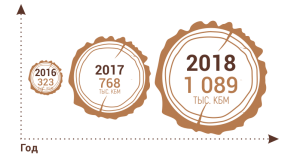 Sawn wood cutting 2018
Dynamics of cutting indicators 2016-2018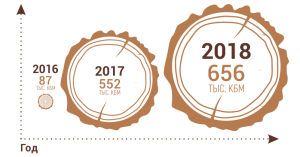 Kraslesinvest, JSC
The Forest Industry Complex of Kraslesinvest, JSC was founded by the state corporation Bank for Development and Foreign Economic Affairs (Vnesheconombank) in 2007 for development of the Boguchansky District and adjacent territories as a part of the Integrated Development of the Lower Angara Territory government program.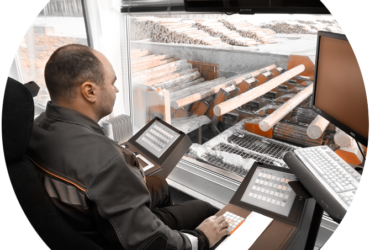 One part of the logs delivered to the plant is taken to the warehouse and the other part goes to the round timber assorting line by Holtec...
Kraslesinvest, JSC pursues strict policy of sustainable forest management and executes an inclusive forest care program.
Kraslesinvest, JSC has a long term lease contract with an annual right of harvesting of 3.2 million cubic meters of round wood per year.
LUMBER FROM ANGARIAN PINE AND LARCH
EDGED BOARD
Edged board made of Angarian pine and larch is an ideal material in terms of financial expenses and practicality that allows to solve many construction problems effectively.
BLOCKBOARDS
Blockboard or furniture board, as it is sometimes called, consists of wooden bars of equal thickness glued together. The bars have opposite direction of fibers to each other.
PLANED MOULDINGS
Wood trim is a specific forest product processed by planer-profiling machines. Aesthetic properties of the wood trim are amazing — baths, saunas and any other rooms decorated with the wood trim look just great.
FUEL PELLETS
Alternative clean fuels produced from the wastes of wood industry. Pellets are divided into 2 categories: pellets for the private use and industrial pellets.
GARDEN FURNITURE
The company started to produce country furniture. Eco-friendly furniture made of solid pine or larch fits perfectly into the surroundings of a country house, any terrace in a cafe, office, club …
DOORS
One of the options to use the blackboard is the manufacture of semi-finished doors. The door unit is equipped with a box and casing. Semi-finished doors can be painted and laminated.